The 11th International Robotic Sailing Competition (IRSC) SailBot 2017 was held at the United States Naval Academy from 11-16 June! Building on previous events success, similar challenges faced the teams(click on the schedule links below).  New for this year was seminars providing information useful to those interested in robotic sailboats and an event where a team choose from three challenges of varying technological difficulty to score points. It was fun, educational and challenging! The competition is open to students from secondary schools, undergraduate and graduate programs, individuals and companies.
Congratulations to Worcester Polytechnic Institute for winning SailBot 2017!
Stay tuned for information on the 2018 SailBot event at: sailbot.wpi.edu

The 2017 event was held at the Robert Crown Sailing Center, host to the SailBot regattas in 2008, 2009 and 2011. The weather in Annapolis was quite warm this year, with temperatures as high as 36C. Winds were light most of the week, with a few gusts reaching 12 knots.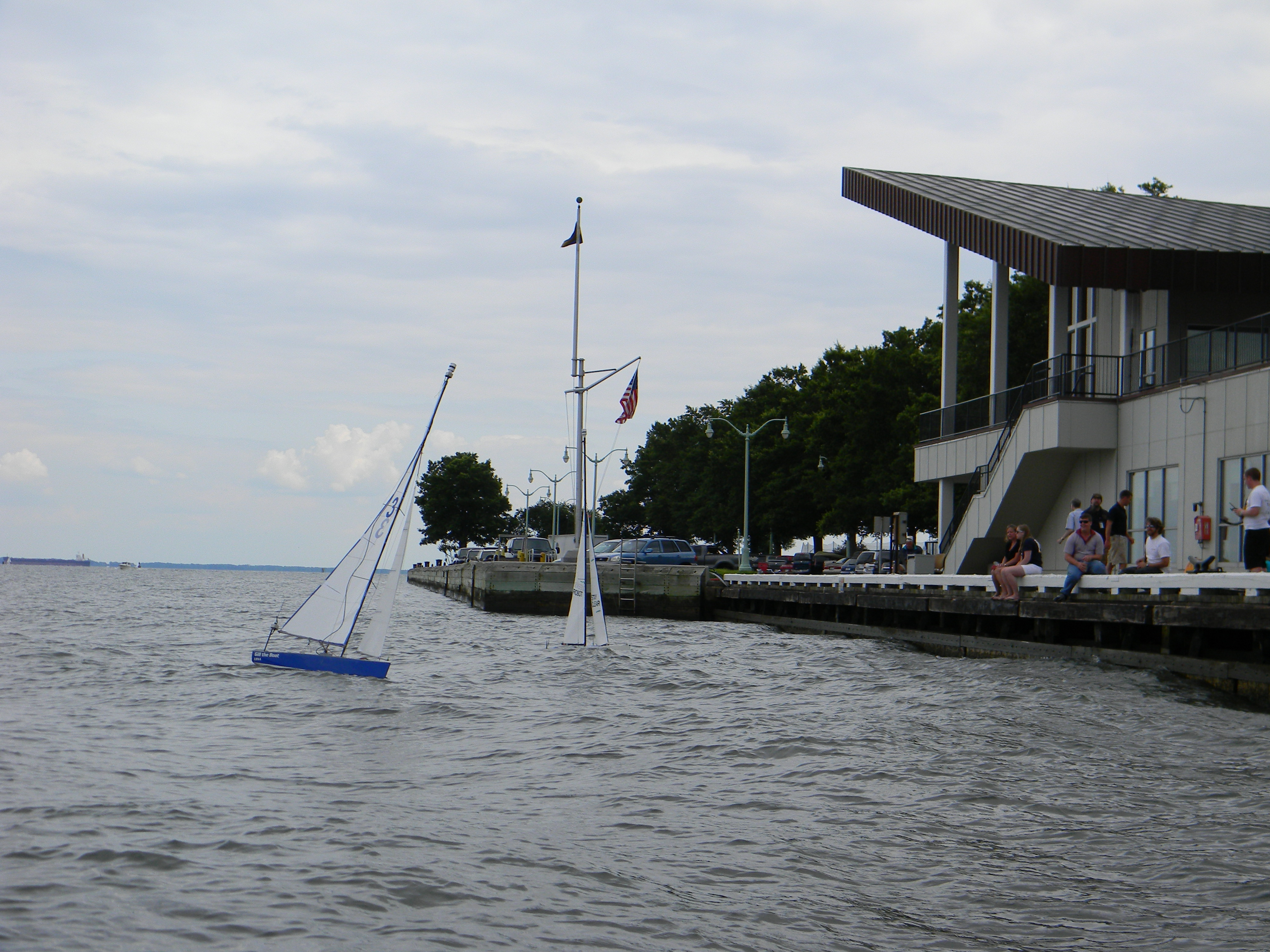 ---
The schedule and events are below. Note that you can click on an event that will link to a description. The challenge events were designed to span the range from easy to difficult so new or small teams could score points their first year and can improve their boat in succeeding years. For example, the fleet race required all boats to use remote control, which is an achievable goal for a new team, while the Navigation event must be autonomous and requires precision control so might be a goal for the second year. Many of the events can be done in remote control by taking a points penalty. With the exception of the Fleet Race(s), a boat/team only competes against its own potential rather than against the other teams. Each event requires different design characteristics of the boat and systems so a team can build on their progress from year to year. For instance, as it is often difficult to determine where the wind is coming from on a boat 200 meters away, a good first-year autonomy goal is computer-controlled sail trim.
Sunday 11 June 2017
0900-1700 Practice and Setup
1800 Welcome BBQ
Monday 12 June 2017
0900-1200 Registration and Seminars (1015 – Opening Remarks, 1030 – COLREGS, 1100 – SailBot nav arch, 1130 – Systems)
1300-1700 Fleet Race(s)
Tuesday 13 June 2017
0900-1700 Station Keeping and Navigation Challenges
Wednesday 14 June 2017
0900-1700 Choice of challenges where the best of your three scores counts: A) Payload , B) Collision Avoidance, C) Search.
Thursday 15 June 2017
0900-1700 Endurance/Long Distance Challenge
Friday 16 June 2017
0800-1200 On The Water Events (if needed)
1400-1700 Team Presentations
1830 Awards dinner in town
In 2017 there were two vessel classes, although no one entered the Open Class:
SailBot Class (boats less than 2 meters overall length that do not exceed the maximum dimensions of the SailBot Class Rules). At least 50% of the team must be secondary or undergraduate students. (Faculty do not count as team members.)
Open Class (maximum 4 meters in overall length, but note that there is no hoist or launch ramp at USNA, so the boats must be carried to the water or towed from a launch ramp about a mile away.)
Prizes, including the SailBot Class Perpetual Trophy, were awarded to each team that competed plus there was a prize for the top MaxiMOOP (three entered)! (For more information on the MaxiMOOP design, go here!)
These were the buoys we used.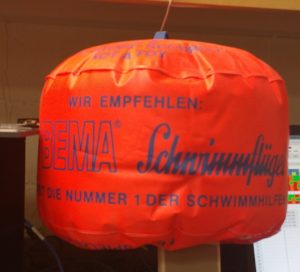 General Notes:
The wind is often inconsistent in Annapolis. If a team feels the inconsistent wind unfairly biased a particular attempt at a challenge they can ask a judge for a re-sail. In general, however, a team is only allowed one official attempt at a challenge. Time permitting they may make unlimited unofficial attempts. Boats attempting an official run have priority. We will only run an event (other than the Presentations) if the wind is below 15 knots most of the time.
As many of the boats are fragile, we discourage boat-to-boat contact! To avoid contact the boats will abide by the sailing rules of the COLREGS. A boat that violates the rules and causes a collision that impedes another boat may be disqualified for that event.
USNA is a major tourist attraction but it is also a military base with stricter rules inside the gate than out! Contact the organizers for a required vehicle pass.
To foster spirit and to make the judges job easier, teams are encouraged to wear school identifying clothing.
Housing is not available on campus, but Annapolis has lots of hotels, motels, B&Bs and even a campground within a fifteen minute drive.
Downtown Annapolis is just a ten minute walk from the sailing center and has numerous restaurants and shops.
This is the intended course area (but of course it might move if the weather does not cooperate!)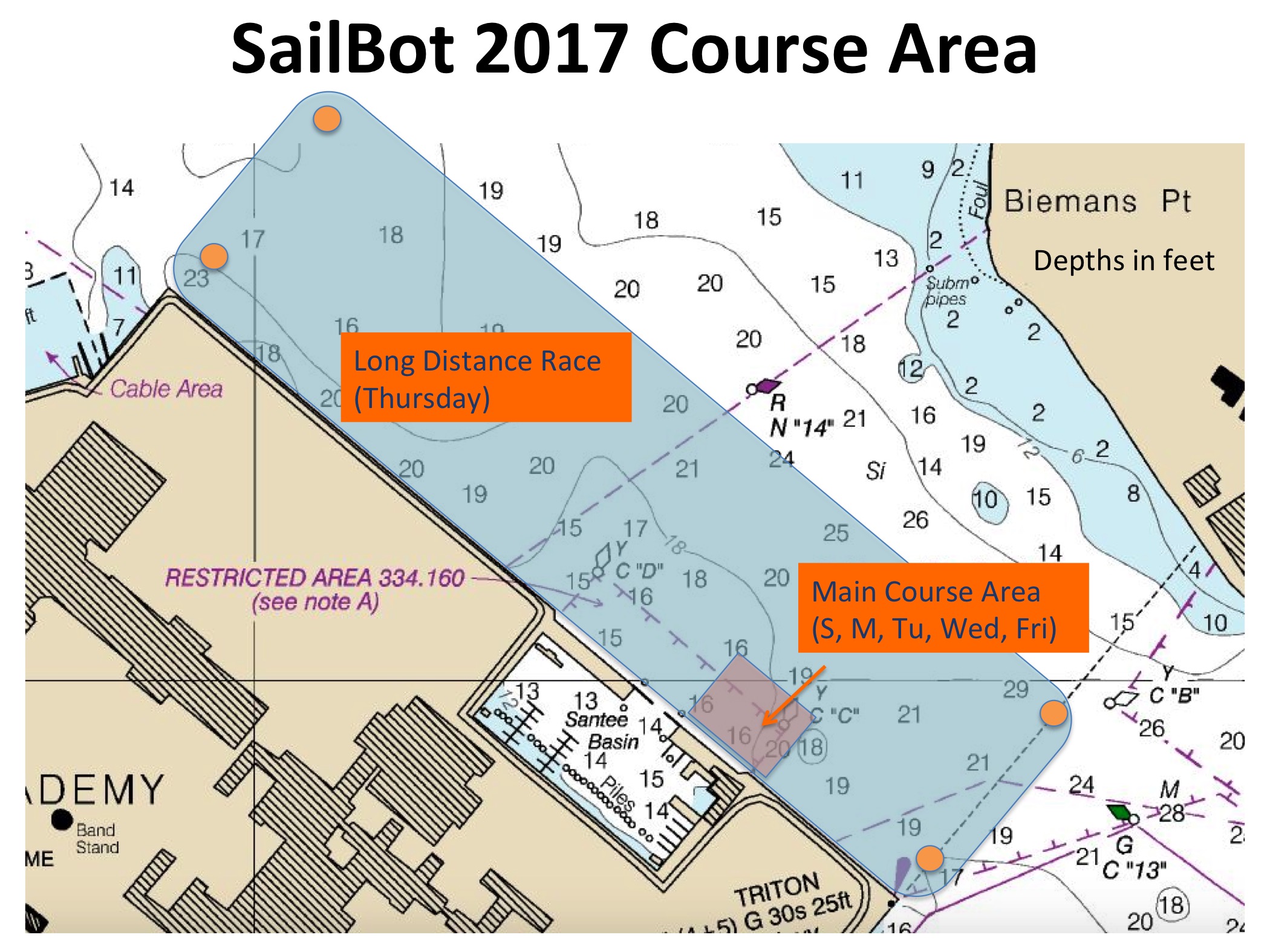 Please send any questions, concerns or suggestions to sailbotcompetition@gmail.com.